Shopping Cart
Your Cart is Empty
Thank you for your business!
You should be receiving an order confirmation from Paypal shortly.
Exit Shopping Cart
We offer local cleaning services. We are a company owned and operated by members of your community. We are devoted to performing quality residential cleaning services coupled with excellent customer service. We have the procedures and quality controls in place to insure your satisfaction, but are still flexible enough to meet your specialized needs. Our many services provided are on a one time, daily, weekly, monthly or as needed basis, 24 hours per day 365 days a year.

Move-Out Cleaning Service

When moving out of an apartment/house and into a new one can be stressful and take a lot of time out of your busy day. When moving, it may be necessary to leave the house or apartment in pristine condition for the new tenants.

Not only does this cut into the time that can be spent getting settled into your place, but scrubbing the house from top to bottom can be very tiring. The ideal choice is to hire a home cleaning company that specializes in move-out cleaning services. Our cleaning service will take care of all the deep cleaning that needs to be done to put the apartment/house into it's best shape yet. In addition to the typical cleaning services that are provided in homes, the move-out service will also include the cleaning of kitchen appliances such as the stove, refrigerator, and oven; the inside and outside of all cabinets, drawers, closets, baseboards, ceiling fans and more.

Have you been disappointed by another house cleaning company? There are a lot of cleaning companies and house cleaners in Monterey/Santa Cruz/San Jose, but unfortunately many of them are hard to trust or simply don't do a very good job.

Leaving house cleaning tasks to our well-experienced team frees our customers of their time for other priorities. We provide the full range of interior and exterior house cleaning services. Our professional team includes specialists in the following technical home maintenance processes.

Post Construction Cleaning

As property developers conduct daily business, there is a strong need for reliable commercial services. We know our way around construction sites and provides an array of services that are specific to this industry. As debris is generated, our fleet will make it disappear.

We employ an awesome team of debris removal experts that will properly discard of any debris generated by property developers. Once the major cleanup is finished, we will proceed with the detail cleaning that will make your newly developed property welcoming to Realtor, banks officials, and potential customers.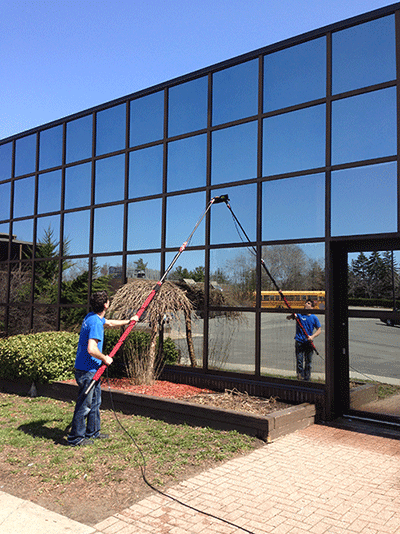 Our company was derived with the goal of offering the finest service available within the residential window cleaning industry, addressing every common complaint customers have with existing contractors. We are proud to work long days, proud to work all year and we only employ trustworthy operators.

We use a pure-water system, meaning not only surface dirt is removed but the surface is cleaned of all residual dirt and chemicals also. We operate ladder-less, meaning nobody pairing through upstairs windows, or leaning heavy ladders against your property. Reliability is key to keeping a long lasting working relationship. Your property will be cleaned on a reliable and predictable round schedule. We use water fed poles and can reach heights without help. Because we don't use ladders (unless there is a specific access problem) we find it makes our customers more relaxed.

Solar Panel Cleaning Service

We clean solar panels with pure deionized water, no chemicals. Why Pure Water?. Ultra Pure water does not contain any chemical which will not continually damage solar panels. It is also just as affective as using a cleaning agent while costing less.

By using Ultra Pure water you're extending the life of the solar panels. This leaves your panels with no spots, streaks, or residue of any kind. Do you have solar panels on your commercial building or residential home? Regular solar panel cleaning can save money and make your panels more efficient. Let us take care of your roof cleaning or solar panel cleaning for you.

Schedule An Appointment Today!

Contact Us:
Advance Cleaning 365
Phone: (831) 905-1415
Residential Cleaning Service

Cleaning Services

House Cleaning

Move In Move Out

Construction Cleaning

Rough Final Cleaning & T-Up

Model Maintenance

Grounds Keeping

Solar Panel Cleaning

Window Cleaning

Pressure Cleaning
/